Reading
Intent 
Our intent is to instil a passion for books and love of reading for every child from the start of their journey at Lord Street with the ambition to be an outstanding reader. We aim to ensure every child is a confident decoder with a maturing understanding and passion for books by the end of KS1. We build upon this fluency by focussing upon further improving comprehension and language in KS2 through a range of collaborative and independent learning styles. We intend to develop confident readers that continue to develop a love of books which educate, challenge and enthral them throughout their time at Lord Street and beyond.
At Lord Street we recognise that the teaching of reading in KS1 will look different in some aspects to the teaching of reading in KS2. We have used the EEF 'Improving Literacy in KS1' and 'Improving Literacy in KS2' in conjunction with early year's research to support our approach to the teaching of reading across school. We aim to ensure our curriculum promotes ambition, consistency, progression and develops best practice across school.
We recognise that where there is under achievement, we need to address it through 'catch up programmes and interventions that deliver results for our children and close the achievement gap.
Implementation 
At Lord Street we use Scarborough's Reading Rope to rationalise the teaching of reading. This is through both discreet teaching of decoding (mainly throughout KS1) and language comprehension to develop confident readers.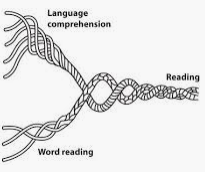 Decoding 
Lord Street uses 'Little Wandle' as a scheme to teach phonics. Please see our Phonics and Early Reading Policy for how early reading is prioritised and delivered. The emphasis on decoding develops into promoting fluency in KS2. Any child not yet passing the PSC (Phonics Screening Check) continues to receive phonics teaching based upon the Little Wandle scheme. 
Comprehension 
The teaching of reading comprehension is based upon evidence from FFTs 'Reciprocal Reading Models' and adapted to suit a whole class model. All staff employ the structure, vocabulary and progression of learning that Reciprocal Reading advises. However, how it looks in class will depend upon the age of the children. All classes, however, have reading lessons based upon book talk in the structure of Reciprocal Reading and all children have access to the lessons and have support for decoding where needed. The basic structure is as follows:
Activation of prior knowledge- enabling the children to form a frame in which to consider and think about the text.
Prediction – using the first line, a picture or a title to predict what the next section will be about.
Clarification- where the definition and meanings of words are challenged and defined. There should be no more than 5 words requiring clarification in each section.
Questioning- ensuring a deep text understanding
Summarising- allowing the reader to pick out the salient information.
These skills are rehearsed repeatedly throughout a cycle of approximately three sections. The intent is to use a mastery approach where all children can access quality ARE (Age Related Texts) texts and become increasingly confident and competent in the way they are able to think about texts and express their thoughts as the scaffolds are removed.
Accelerated Reader  
Children move from the phonically organised book bands started in EYFS to our Accelerated Reader scheme from Y2 onwards. Children are assessed three times a year and given a ZPD. Children then quiz at their level. Class teachers, supported by leaders, are responsible for checking who is reading regularly and for ensuring motivation and enthusiasm for home reading. Teachers are responsible for keeping track of who is reading and quizzing and ensuring children who are not reading at home do not fall behind. The AR leader is responsible for monitoring AR and ensuring teachers make best use of the data it provides. 
Text Choices 
As stated in intent, our aim is to ensure all our children are able to read texts which educate, challenge and enthral. We also want our children to encounter texts which challenge and ensure they can access academic texts in secondary school. In order to ensure this coverage, The Five Plagues or Reading' have been used to plan a progressively challenging reading curriculum where children meet all 5 text types as outlined by Doug Lemov. This is alongside non- fiction and poetry to ensure the curriculum builds upon the text types visited each year. Other texts are also included which support our wider curriculum to ensure our children encounter texts which promote diversity and deepen knowledge. The Pie Corbett poetry spine also ensure the children are exposed to six poems of differing style over the course of the academic year. In year one and two there is also a reading offer that includes a range of fairy tales, classic tales and curriculum link books to help support their reading lessons.
Teachers must ensure children have access to the key texts in the planned in half term to ensure progression and exposure throughout school. However, professional judgement is to be used as to whether the text is used to teach every Reciprocal Reading session or as a class reader, or indeed, both. The list is not meant to limit the texts the children are exposed to, but rather, provide a minimum entitlement. A range of suggested non-fiction texts have also added to the curriculum to help support reading across the entire curriculum.
Reading for Pleasure 
All texts are chosen to enthuse our children and build confidence with reading and text types and intend to ensure children enjoy reading. However, we also implement a range of strategies and events alongside class teaching. These include:
Book Club- this has been implemented in KS2.The texts that are available are chosen form recommended lists and children's input.
Class stories- story time is built into classes every day
Library- all classes have a timetabled session in the library
Library- recommended reads and book displays are updated regularly to promote reading across the school
Author Visits
Book day events
Festivals/ Enrichment days- e.g. Ilkely festival
CPD 
Regular reading CPD staff meetings are scheduled. Academic research is regularly distributed. We have recently trained staff in Better Reading Partners as an intervention programme.
Impact 
Staff are expected to continually assess and reflect upon the impact of their teaching. More formal assessment points three times per year allow teachers to analyse the effectiveness of teaching and learning and plan to address gaps. SAT tests allow school to judge progress and attainment against national benchmarks in years 2 and 6.
Pupil voice questionnaires are run half termly with an individual year group.