The Power of Play
The Power of Play
15 July 2020 (by admin)
Building relationships and skills, Summer holiday leaflet - play, exercise and coping.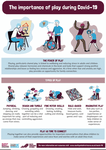 For many weeks now children have been educated at home or in small groups in school. With the summer holiday just around the corner it is important for children to feel they can now take a break from structured education and make the most of their summer holiday.
Even without formal learning there are many ways that children can develop their skills over the summer, included in this leaflet are just a few ideas:
Play,

Keeping active throughout the summer,

Emotions and managing behaviour.