Latest Lord Street School Calendar Events
KS1 Choir Mrs Green

12

Dec

2017

3:30 pm - 4:00 pm

KS2 Choir Mrs Doyle

12

Dec

2017

3:30 pm - 4:30 pm

KS1 Choir Mrs Green

19

Dec

2017

3:30 pm - 4:00 pm

KS2 Choir Mrs Doyle

19

Dec

2017

3:30 pm - 4:30 pm

KS1 Choir Mrs Green

09

Jan

2018

3:30 pm - 4:00 pm

KS2 Choir Mrs Doyle

09

Jan

2018

3:30 pm - 4:30 pm
Welcome to Lord Street Primary School
Dear Parents, Guardians and Visitors,
Welcome to the Lord Street Primary School website, we hope it is useful to you. Please let us know if there is anything we have missed that you think would be helpful!
If there is anything else that you need to know then you are most welcome to phone us (01282 865597) or to call in at school. Guests are always most welcome, whether you are an ex pupil who wishes to rekindle old school day memory or you have a child who you would like to enrol at the school. Our staff and children will always give you a warm welcome.
D. Hetherington
Headteacher
Building Work Update
October 2017
We have an up date on building work for you. As you know the office has had to be temporarily closed but is due to reopen this week, with the addition of eight acroprops to support the roof above! It is all safe but its putting pressure on us for space. The building work is shifting its focus to the roof above our meeting room and my office and they will be closed. This means we are going to be very short of space for any meetings with parents.
On a positive note the kitchen is due to be working again after half term and we will have three of our classrooms back. We are risk assessing one to use for PE on rainy days and two others to use as dining areas.
Even though we keep losing school rooms, there is light at the end of the tunnel!
September 2017
Thank you for bearing with us last term. It was challenging for everyone. We are starting our second term in the 'Village', as we are calling the porta-cabins on the field. We expect to be using them until Easter 2018 when the main KS2 building should be handed back. We have been told that handover should be 23rd March. It is a provisional date but we are looking forward to it!
Over the summer we lost the use of the staff room and it's still out of action. Hopefully we will have it back in the second week and even more usefully we might have the kitchen working again by the end of September, so there is a chance of hot meals again!
The hall will remain out of action until March which means we have no inside space for PE. You will need outdoor PE kit every week as we will be using the playground and nearby sports hall. Assemblies for the whole school will be at Sacred Heart's Church hall on Friday afternoons but we will need to be sensible when we have bad weather. The walk to the church and back will mean children being soaked on wet days so you will have to check our text service to make sure we don't cancel.
The disruption to school will continue but we are very grateful to all those who have helped us, especially Colne Primet Academy who housed us for three weeks, Father Chris at Sacred Heart for the use of the Church Hall for a weekly assembly and Colne Park High for kitchen space to make sandwiches!
Yours faithfully
Duncan Hetherington
Head Teacher
Building Works History Summer 2017.pdf
Foundation Stage Stay and Read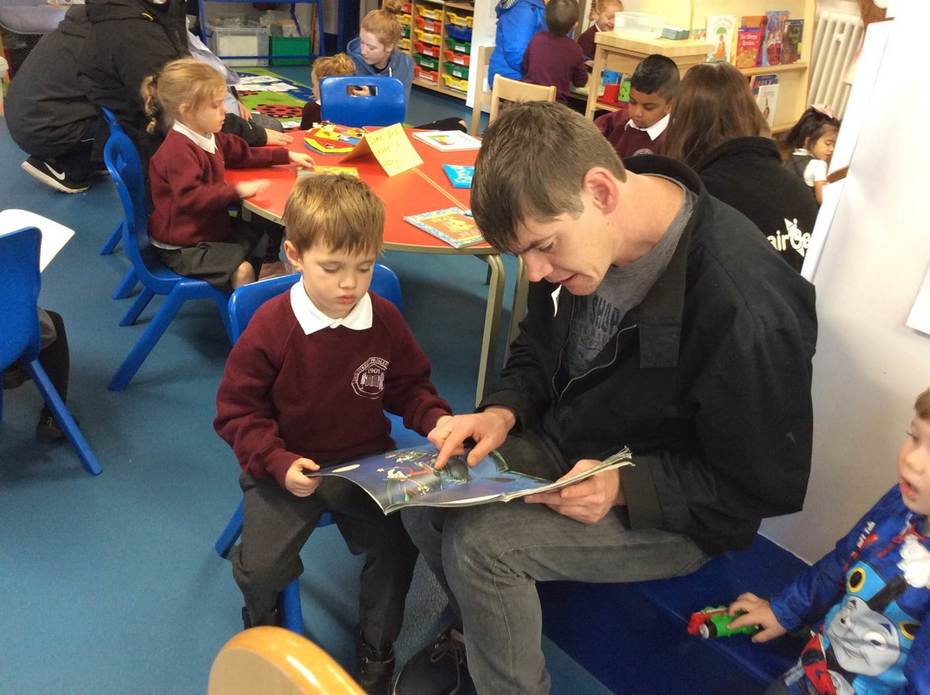 Follow the link to see our stay and play event.
Latest News
Autumn Term
Welcome back to school, we hope you all had a great break and enjoyed the fireworks and bonfires safely!
New Uniform Policy
We have updated the School Uniform Policy. We have not changed overall uniform but it is important that you read the policy to make sure you are clear on expectations.
SAT results
Updated SAT results are available in the Pupil Attainment Section of the site. The results are a big improvement on last year and the school continues to improve both attainment and progress.